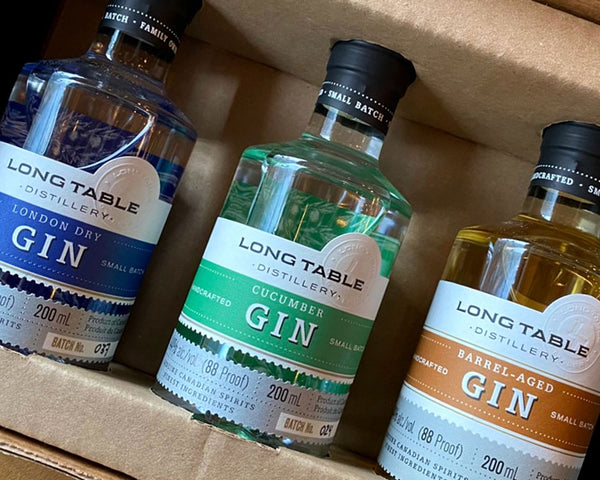 44% ABV | 3 x 200ml
Long Table Distillery's Gin Trio Sampler contains our award winning London Dry Gin, Cucumber Gin, and Barrel-Aged Gin. It's a great way to learn about our Ginsmithing Craft and a must have if you enjoy exploring the world of gin. It also makes the perfect gift for Gin loving friends. 

For larger staff or corporate customer gifts call us directly for group order discounts.

This gold award winning BC crafted Gin is our take on a London Dry style and is defined by a complex balance of eight botanicals. The result: bold, forward notes of evergreeny juniper and citrus followed by earthy woodsy notes, fennel and a hint of pepper – fragrant, flavourful, fresh.
This gold award winning BC crafted Gin is a copper pot distilled, New Western Dry Gin with nine botanicals and B.C. farm fresh cucumbers, seasonally sourced. This gin greets your palate with notes of fresh garden cucumber and soft citrus leading to a lingering peppery finish.
This premium handcrafted Gin is aged in small 30-litre bourbon barrels and bottled when the spirit is suitably aged. The result is an aromatic small-batch gin with a uniquely complex finish, perfect as a sipping Gin or the foundation for a variety of cocktails. The flavour profile includes aromas of grapefruit, orange peel, spicy juniper and hints of baking spices on the nose, paired with silky smooth caramel and vanilla notes on the palate, leaving a lingering, rich and robust finish.
This pack contains 3 x 200ml bottles (1 x London Dry Gin, 1 x Cucumber Gin, 1 x Barrel-Aged Gin)